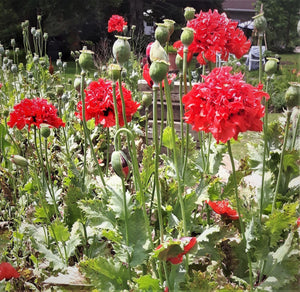 Poppy - Red Fringe
Cheerful, bright red poppies look like the crepe paper flowers I made as a child. Commonly known as 'feathery' poppies, these Papaver laciniatum poppies brighten up any garden. Plant them in big drifts or as a single speciman. If they are happy they will self-seed every season. Dry the seed pods for use in flower arrangements.
Papavare laciniatum
Days to maturity: 80-90
Bloom type: annual
Direct seed poppies in late fall or early spring. Sprinkle seed lightly on the soil surface and cover with .6 cm of soil as they require darkness to germinate. Firm soil. Poppies do not transplant well so indoor seeding is not recommended. Thin to 15 cm apart when first true leaves appear to give plants room to develop. Allow seed pods to dry on the plant then cut and place upside down in a paper bag to collect the seeds. Dry seeds and store in a glass jar.