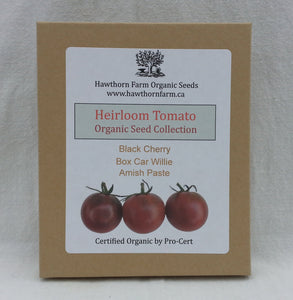 Heirloom Tomato Collection
An introduction into the tasty world of heirloom tomatoes. Black Cherry plants produce buckets of dark reddish-black, rich, sweet fruit. Box Car Willie is named after the famous singer of the same name and produces large, bright red fruits with a rich, old fashioned tomato flavour. Amish Paste is thought to have originated in the 1870's in an Amish community in Wisconsin and it is still a favourite today for both sauce and fresh eating.
Contains one packet each of Amish Paste, Black Cherry and Boxcar Willie tomatoes.