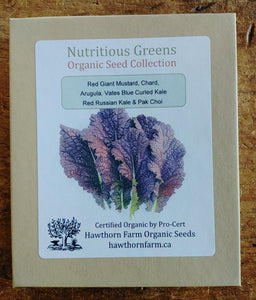 Nutritious Greens Organic Seed Collection
A collection of nutritious leafy greens for your garden. 
Leafy greens are a nutritious powerhouse rich in vitamins and minerals such as Vitamin A, Vitamin C, iron, magnesium, potassium and calcium.  They are also full of fibre which helps support gut health. Grow yourself a batch and cook them up with a little olive oil and garlic for a delicious treat or add fresh picked greens to your morning smoothie.
Contains one packet each of Red Giant Mustard, Vates Blue Curled Kale, Arugula, Chard, Red Russian Kale & Pak Choi