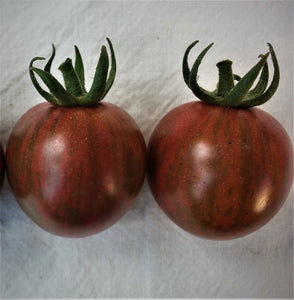 Purple Bumblebee
Colourful striped cherry with rich flavour. Oval fruits resist cracking and are purple/black with dark green to grey striping. Very beautiful and popular in CSA's and at market as well as in your kitchen. Flesh is a dark purple colour with green tints and is very tasty. Does well in field or greenhouse condition.  Plants are compact and productive. Bred by Fred Hemple of Baia Nicchia Farm in California. Indeterminate.
Solanum lycopersicum
Days to Maturity: 70 days.