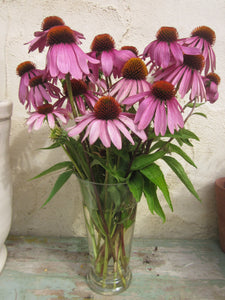 Purple Coneflower
Hardy, drought-tolerant perennial is a beneficial insect magnet. Long-blooming bright purple flowers surround a plum coloured centre cone and last a long time as cut flowers. Blooms appear in July and continue into late October when seed eating birds flock to the seed heads for a nutritious meal. Plants reach 80cm and form a well behaved clump. Has a long history of medicinal use although we prefer Echinacea angustifolia for medicinal use. 
Echinacea purpurea
Hardiness zones: 3-9
Bloom type: Perennial
Sow indoors 8-10 weeks before your last frost date or direct seed outdoors in spring when soil has warmed. Sow seeds 3mm deep and keep in a warm place (20-25 degrees Celsius)  in total darkness until germination occurs. Place in bright light once seedlings are visible. Transplant to the garden in late spring spacing plants 30-40 cm apart in full sun and well-drained soil.