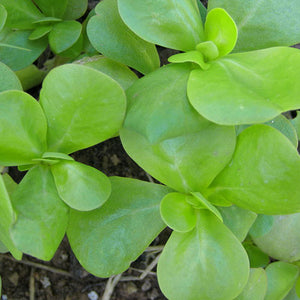 Purslane - Golden
Despite being seen as a weed in some cultures, purslane is a nutrient dense, leafy green vegetable. It is loaded with antioxidants, minerals, omega-3 fatty acids and beneficial plant compounds. This variety has been selected to make mounded, compact growth for ease of harvesting. The rounded golden yellow leaves are thick and succulent with a fresh lemony flavour. We like it best raw in salads, on sandwiches or chopped fresh into soups and stews.
Portulaca oleracea sativa
Days to Maturity: 50 days
Direct seed after last frost when soil has warmed to the touch. Sow seed  1/2cm deep and 1.5cm apart. Need light to germinate so don't bury deeply. Thin seedlings to stand 10-12cm apart. Can also be started indoors. Sow 3-4 seeds per container and  cover very lightly with soil. Thin to one or two seedlings. Transplant outdoors when there is no danger of frost. Likes sun and well-drained soil.