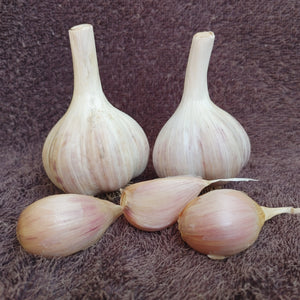 Northumberland, Organic Seed Garlic
Type: Hardneck, Porcelain
Cloves per bulb: 6 large! 
Storability: 8-9 months
Huge garlic heads wrap extremely large cloves of intensely flavoured garlic that pack some heat. This beauty was selected by Amanda Vaughn and she stailized it to produce 6 large, easy to peel cloves. Love the taste of garlic? This one is for you.