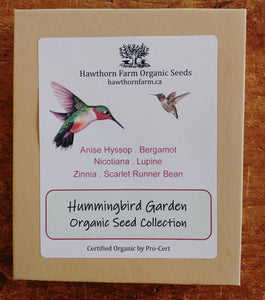 Hummingbird Garden Organic Seed Collection
Here is a seed collection to get you going on a garden that will attract hummingbirds to your yard all season long. These enchanting little birds prefer tubular flowers in bright colours especially red. Give the scarlet runner bean a support to climb on and plant drifts of the other flowers throughout the garden.
Contains one packet each of Anise Hyssop, Bergamot, Nicotiana, Lupine, Zinnia and Scarlet Runner Bean.