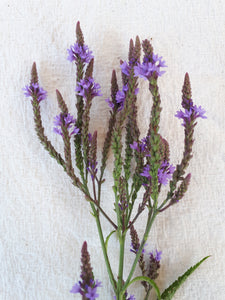 Verbena - Blue Vervain
This is the species vervain used for natural medicine. With its innumerable short but long-blooming lilac spikes, blue vervain is also welcome in the perennial garden— just ask the bees and butterflies, if you can divert their attention for a second! Try growing it in front of Asclepias incarnata or Mr. Joe Pye (all like a moist soil) for a nice contrast in flower form. Seeds may be direct sown or cold-moist stratified (winter sown).
Verbena hastata
Hardiness zone: 3-9
Bloom type: Perennial
Start indoors (recommended) 6-8 weeks before last frost or seed directly once soil warms in spring. Sprinkle seed on soil surface and cover very lightly. Seed can be slow to germinate. Keep moist until seedlings are up. Transplant outside into full sun when there is no danger of frost. Prefers a moist location but can grow in regular garden soil as well.