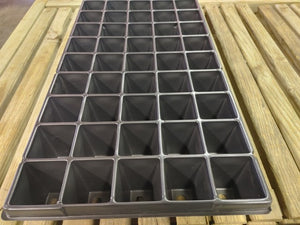 Standard sized 50 cell plug tray
Cells are 5cm (2in) square by 6cm (2.37in) deep and have a drainage hole.
They are designed to sit on propagation bench so there is air flow under the tray which will air-prune the roots and keep them in the cell. They also fit perfectly in our no drain trays and our seedling humidity domes fit perfectly on top.
Trays are durable and can be used for multiple growing seasons with proper care.
Width (in.):11, Length (in.): 21.22, Depth (in.): 2.37.